NEW VISION TV
SMART TV INSTALLERS
1 pretoria street
1102 Pretoria Gate, Rosebank Telephone Number : +2772 04 39 555
Johannesburg Email: hello@dstvcommunal.co.za
Gauteng, South Africa
DSTV COMMUNAL
Dstv Communal Installation
dstv communal Integrated Reception System (IRS)
Optional Rental Satellite System (ORS)
A communal Integrated Reception System (IRS) is the ideal solution for managing
agents, private landlords,
housing associations and local authorities to provide their residents with access to a
combination of
New Vision TV can design and install a Fibre cable system providing access to both
satellite and terrestrial TV services. The discrete Fibre cable is only 2mm in diameter
as compared to traditional coax cable at 7mm.
dstv communal Commercial Installations
New Vision TV provide commercial and communal television, radio and satellite
distribution systems for businesses, blocks of flats, new build developments and office
blocks.
We can design, build and install a system capable of delivering your requirements.
The Shared Dish system is a simple, neat and cost effective way for all your residents to access
great entertainment. It's perfect for adding value to your existing properties and as one of Sky's
Approved Communal Installation Companies we can offer great subsidies for our Shared Dish
Systems.
communal dstv Maintenance & Repairs
With over 20 years of experience in the installation and maintenance of communal TV and Satellite
systems, New Vision TV is the company to call when a fault occurs on the TV system and not just
for systems installed by ourselves but for systems installed by others as well.
We can install a CCTV system that can be viewed on a single monitor / TV or the signals can be
distributed through the communal television system so that the pictures can be seen on multiple TV's.
A
communal
Dstv
installation
uses
one
DSTV
dish
and/or
aerial
to
service
numerous
users.
This
type
of
system
is
used
for
flats,
hotels,
guest
houses
and
complexes.
We
are
available
to
assist
in
the
planning
stages
of
any
communal
system
or we can retro fit to an existing system.
New
Vision
TV
As
Accredited
Installers
we
have
the
knowledge
and
experience
necessary
to
install
your
system
correctly,
efficiently
and
neatly.Believe
you
me
there
are
plenty
of
fly-by-night
installers
who
claim
to
be
able
to
install
and
service
communal systems but if you want full satisfaction look no further than Reliance TV. All our systems are digital ready.
If you wish to arrange a Free Survey
click the button below.
Sales & Customer Service
team
If you are experiencing any problems
with your Sky, Freeview or Freesat TV
go to the FAQs page for
troubleshooting.
Fibre Integrated Reception System (FIRS)
This type of system lends itself very well for the installation of an Integrated Reception System.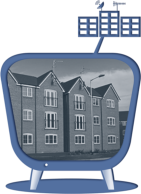 Our optional approach recognises that there will only be a minority demand within a block of flats from residents to receive
satellite programming.
We can install a communal satellite system with no central costs to impact the service charge and expand it, when
required, to meet the demand from residents. Our unique ORS approach is the only truly democratic system designed
especially for flats/apartments and it's only available from Community Vision. This approach is perfect where there is only
a minority demand for Satellite Television.
There are many private properties in London and the South East where the majority of residents are satisfied with digital
terrestrial TV from Freeview. Those residents who want to receive satellite programming are often left disappointed
because the property will not install an Integrated Reception System (IRS) involving all residents paying towards a service
that the majority do not require.
By installing a Fibre Integrated Reception System in your building you will be ensuring that tomorrows infrastructure is build in today.
Community Vision can design a Fibre optic network to provide Satellite TV Services, Digital Terrestrial TV, Digital Audio Broadcast Radio (DAB) and CCTV
signals to individual flats. As experienced installers of FIRS, we can offer a service from initial design, to installation, commissioning and any ongoing
maintenance requirements.
A Fibre TV system minimises the number of antennas required, meaning that one antenna array can potentially cover a vast number of dwellings and the
installation can be included in new build or existing properties. Fibre optic cable is very discreet and at only 3mm in diameter is much smaller than conventional
coaxial cables. In addition, signal losses are minimised